Blog
Detective Sergeant Maria Bartley, Northumbria Police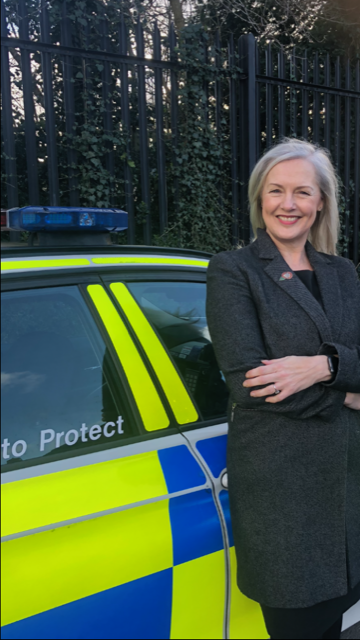 Meet some real-life heroes in my series of special interviews with people who represent the spirit and heart of the North East.
Detective Sergeant Maria Bartley joined Northumbria Police in 2003 and is no stranger to catching criminals  from being a Prison Intelligence Officer at HMP Frankland, to working in the Homicide and Major Enquiry Team, and investigating criminals digital footprint in the Digital Forensics Unit.
In this interview, Detective Sergeant Bartley tells us about her role at Northumbria Police, who her North East heroes are, and more. 
Please tell us a bit about your connection with the North East.
I'm extremely proud to be born and bred in Sunderland and I have lived and worked in the North East my whole life. I come from a large family who have always taken pride in their roots and I think that's how many who are from North East communities feel. We're a region full of pride for who we are and where we're from.
Can you tell us about your role at the Northumbria Police?
I've had a fantastic career catching and working with criminals from working as a prison intelligence officer at HMP Frankland, to carrying out intricate investigations within Northumbria Police's Homicide and Major Enquiry Team – I've really done it all.
I joined Northumbria Police back in 2003 and I've never looked back. I was 33 at the time, the oldest in my intake and the only one with kids. I was scared I'd missed my chance but that wasn't the case at all. Northumbria Police made me feel supported and included in all aspects of the job. I had flexible working where I needed it and the investment in my development.
I've always been a really passionate Detective and wanted to put dangerous offenders behind bars. I recently worked in the Digital Forensic Unit dealing with some of the worst of the worst; paedophiles, domestic abusers and any criminals who leave a digital footprint – it all came through us.
As I grew closer to retirement, I knew I wanted to use my time left to encourage others to join the world of policing and help people develop themselves. I recently took a role doing just that and I'm loving helping shape our next generation of officers. On a whole, I just love the variety of modern policing, I've worked in some incredible roles, met so many different people, no two days are alike and I love that.
My protagonist DCI Ryan has similar motivations to you in wanting to keep the North East community safe. Your job sounds fascinating and is so important.
Which three words best describe the North East to you?
When I think about the people here, three words always come to mind – pride, passion and loyalty.
People here are proud to be from the North East, there is so much history here and they're loyal and passionate about the region and all it has achieved and what it has to offer. I feel those three words in all communities I've worked in or visited.
It's often said that the people and landscapes of the North East are full of spirit and heart. What do you love most about the region?
This one is easy for me – the coastline, not only does it offer amazing views but it represents a huge part of North East culture. It's where the big ships were built, families and friends come together for day trips, and it's how many make a living. My father was a fisherman and for me seeing the sea will always remind me of him.
You're right, the coast does represent the North East. Is there one place in the region that you always like to visit and would recommend to others?
There are so many fantastic places to visit in the North East so it's hard to pick just one but, for me, Durham is beautiful. When you come over the hill and see the magnificent
Durham Cathedral
, it takes your breath away every time. My daughter goes to Durham University and a passion of mine is rowing along the river there, so Durham always has a special place in my heart.
Durham is a fantastic place.
What about a favourite shop or business you think everyone should know about in the region?
There is a wonderful pay as you feel community café on Chester-le-Street front street called
REfUSE
. Their aim is to ensure no food is wasted and run education projects, volunteering schemes and charity nights and events. They collect food that is going out of date from supermarkets and either give the food away or use it within their café before it goes off to ensure no food goes to waste. It's a fantastic place with very friendly and welcoming staff and the good work they do is amazing.
I've actually interviewed Mim and Nikki from REfUSE as part of this project! It's great work that they do and a wonderful recommendation.
Do you have a favourite North-Eastern slang word? What does it mean?
Definitely radgie, there are different spellings, but this is the most common. I get called all sorts doing my job but radgie is definitely one of my favourites. It kind of means to be angry; it's quickly become part of my everyday vocabulary.
Who do you think is a hero in the North East?
For me, a big hero is
Terry Deary
from Sunderland. He is the author of the Horrible Histories books. I have always had a passion for history and Terry made it interesting for so many generations. I used to sit with my kids and read the books and to tell them he was from the same place they were was amazing, it helped them see they could be anything they wanted to be.
Jimmy Montgomery is a hero to me and so many in Sunderland. In 1973 Sunderland were playing Leeds in the
FA Cup final
and Jimmy made a double save helping Sunderland secure the win. Jimmy went to school with my dad and my dad always tells people he was the one who taught him how to play football. You can't talk about your love of the North East without mentioning football, it's ingrained in who we are and it's part of the reason I love it so much.
Great choices!
As a final question, what makes you smile?
There are so many things that make me smile; my friends, the job satisfaction I get from work, and my hobbies, but there is one thing that jumps straight to the top of that list – I became a grandma for the first time in March last year. Her name is Kiera and she is beautiful in every way, just the thought of her has me beaming ear to ear.
That's absolutely lovely, congratulations on becoming a grandma! Thank you for joining me for an interview, it's been great to hear about your work in the Digital Forensics unit of Northumbria Police and what the North East means to you.
Special thanks to Kate Baguley, who helped co-ordinate this interview.