Blog
Karen Verrill, Maggie's Cancer Centre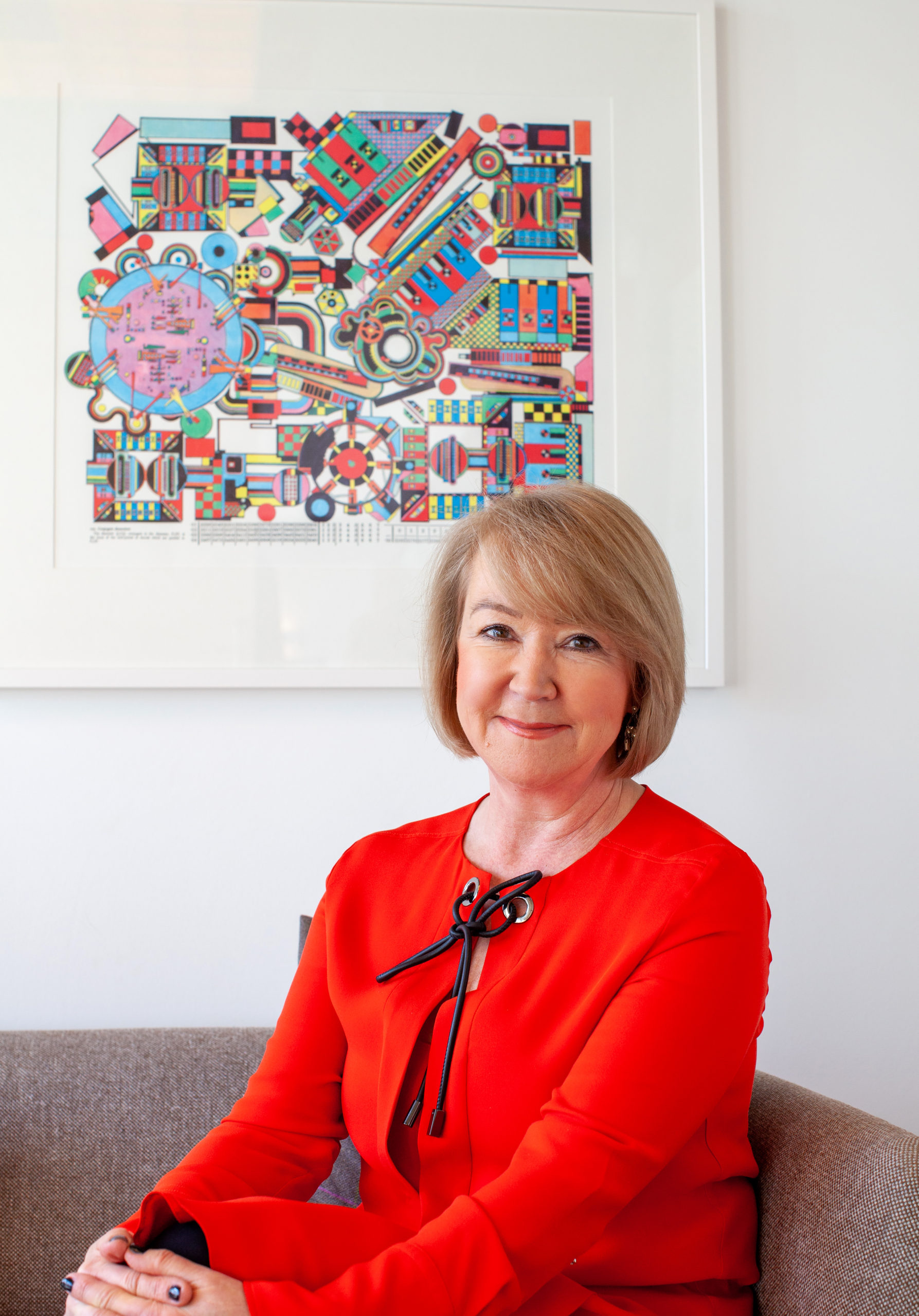 Meet some real-life heroes in my series of special interviews with people who represent the spirit and heart of the North East.  
Karen Verrill is a qualified nurse who has cared for and helped people for many years. Karen founded Ladies in Pink Scarves, a charity that funds initiatives for those affected by cancer living in the North East, but she is also the Centre Head of Maggie's Newcastle, a charity specialising in providing free support to anyone with cancer and their families and friends.  
In this interview, Karen tells us about her work in cancer care, her North East hero, and more…Â 
Karen, please tell us a bit about you and your connection with the North East. 
I was born in Newcastle and have always lived on Tyneside. I am from a working-class family and I am proud of my roots. My paternal grandfather worked in the shipyards and my maternal grandfather on the railways. My dad 'served his time' to be an upholsterer but due to a lack of job opportunities moved into heavy manual work and continued this for
all of
his working life. My mother trained as a secretary and worked hard for many years until she became ill at the age of fifty-one. When I was growing up, money was
tight
and we didn't have a car. Mind you, not many people did around here in those days. On occasion, my parents, my sister and I would get the number 14 bus to Seaton Sluice. My Dad had a love of the sea and I have inherited this from him. I have lovely memories of days on the beach and then getting the bus back home, tired and happy. My desire to live right by the sea grew and I moved to the coast almost forty years ago. I wouldn't want to live anywhere else.  I am married to a wonderful man, we have five children between us, two grandchildren and a gorgeous old Border Collie. When we can all get together, we have a great time.
 
As a child, I was always interested in caring for people and in reading medical stories in the newspapers. I decided to train to be a nurse and qualified several decades ago! I have worked in various hospitals in Newcastle and North Tyneside,
on wards
, in Accident and Emergency, in operating theatres as a scrub and anaesthetic nurse, in Intensive Care, in a Hospice, and in the community for a home chemotherapy provider. For the last twenty years, I have been a Nurse Specialist working in cancer care. I have always advocated for
professionally-moderated
peer support for those with cancer. In 1991, I set up my first breast cancer support group in Newcastle. The next was in 1993 at North Tyneside hospital and both are still running. I pioneered a breast reconstruction support group in 1998 – now a widespread service. The importance of extra support for people with cancer and their families to run alongside the traditional medical and nursing models of care was very evident to me. As a result, I continued to lead and develop more patient and family-centred support provision both in hospitals and in the community on top of my full-time specialist nursing roles. I have enjoyed every job I have
had
and nursing is a career I love. If I could do it all again, I would.
 
I have been fundraising in my "spare time" for thirty years. In 2006, I set up my own charity '
Ladies in Pink Scarves'
after taking part in a Cancer Research UK charity walk on the Great Wall of China. I had a fundraising target of £3,500 but with the generosity of the local people I raised £25,000.  After the walk was over, there was a drive and desire for more events and real momentum – the charity became the vehicle for fundraising efforts. LIPS raised funds to help support people who have cancer including donations to local hospitals for items of medical equipment and several wellbeing initiatives in the community. Of the many fundraising events I have organised, the highlights, without doubt, have been the
black-tie balls
which have included a fashion show. 
All of
the models have had a cancer diagnosis and it is amazing to see the camaraderie among them and the delight they get from strutting their stuff on the catwalk with their proud families and friends looking on. I am still involved in fundraising – but my
main focus
is Maggie's, the cancer charity I work for now.  
 
Your passion for helping others really shines through, and the work you do has such an impact on people's lives. Your fundraising sounds incredible, with the balls and fashion shows and, of course, walking the Great Wall of China! Can you tell us a little more about your work at Maggie's?
 
Maggie Keswick Jencks used her own experience of having cancer to create a new type of cancer care. The first Maggie's opened in Edinburgh in 1996, and there is now a network of 23 centres across the UK and 3 abroad with more planned. Maggie's idea was that with the right support, nobody would "lose the joy of living in the fear of dying" when diagnosed with cancer.
 
As the Newcastle Centre was nearing completion in 2013, I was appointed as Centre Head. I was there whilst the final touches were made to the build. It is a beautiful, thoughtfully designed non-clinical space and I love the place!
 
At the time, I had been working as a Secondary Breast Cancer Specialist Nurse in the Northern Centre for Cancer Care at the Freeman Hospital and, literally, crossed the road to my new job. I am passionate about delivering the best possible care to people with cancer and developing patient focussed services.  For me, becoming Centre Head of the new Maggie's was the ultimate opportunity…. and challenge.
 
I have developed the service, building a team which now includes a Benefits Advisor, who has been there since we opened, Cancer Support Specialists, Psychologists and Fundraisers, supported by volunteers. We are here to support anyone who has experienced the impact of a cancer diagnosis and that means the person with the diagnosis and family and friends. There is a full programme of support and Maggie's North East / Newcastle (it is known as both) is much loved by almost 200,000 people who have used the Centre.
 
A day in my life includes a mixture of drop-ins and programme activities, including support groups and courses. It is often the people who drop-in who have the greatest need, they or their loved ones may have had a new diagnosis, bad news, be approaching the end of life, or have lost someone to cancer. People who don't know about what we do think that Maggie's is about tea, cake and a natter – but it is so much more. We hear
on a daily basis
stories of illness, grief and sometimes despair and our job is to try and support people to live as well as they can whilst going through often the most difficult period of their lives. The best days are when we can turn tears to laughter.  
 
People come in and share so much of what is happening to them and their families.  They share their thoughts and fears and
open up
with an honesty that is humbling and a privilege to be part of.  Never in my many years as a nurse
have
I experienced such depth of feelings. I have had many conversations that would never take place in a clinic room. People are enabled by the expertise of the team and by the wonderful environment that is a Maggie's centre.  
 
I could not write this piece without mentioning the pandemic. We are all living with uncertainty. People with cancer were living with uncertainty anyway. Maggie's Newcastle has remained open throughout and during the strictest lockdown the part we had to play quickly became evident to me. Due to the precautions needed to control the spread of the virus, visits to hospital wards were suspended. This was extremely traumatic for patients and their families. A very small team of us began facilitating socially distanced visits in Maggie's for these families including young children so they could see their loved ones who were in-patients in the Freeman Hospital. Many of these visits were with people who were close to the end of their lives. This is among the most worthwhile things I have ever done.
 
I hope to continue in my role as Centre Head for the foreseeable future and be here to open our
much needed
extension. We are one of the busiest Maggie's centres and the local population have embraced the service. They come to share their problems, fears and pain but also their hopes and dreams. The warm, friendly, caring community of people using the centre for support are at the heart of what makes Maggie's what it is – a haven for those going through cancer,
a  place
to come to, and a place to be. This is the best and most rewarding role of my whole career.  
 
Wow. So you've really seen Maggie's Newcastle grow right from the start, and the work you do is incredibly important to so many, especially with the difficulties you've faced and overcome with the pandemic. You really do encapsulate the 'spirit and heart' of the North East with your kindness and hard work. What do you love most about the North East?
 
I love the heart and pride of the North East people, their kindness and care for others, friendliness, generosity and community spirit, how hard we work and our working-class, heavy industry heritage. With regards to the landscapes of the region, for me it will always be places with views of the sea.  St Mary's Island,
The Spanish City
, Tynemouth Priory, North Shields Fish Quay and the two piers at the Mouth of the Tyne.
 
I couldn't agree more. Is there one place in particular that you always like to visit? 
I love to visit Holy Island, especially when the tide is in and you are cut off from the mainland.
 
One of my favourites too! I think the causeway is what made it such a great location for a crime mystery in my first novel. 
Do you have one favourite shop or business you think everyone should know about in the region? 
Fenwicks is my favourite shop in the region. It opened its doors in Newcastle in 1882 as the flagship store of the Fenwick family. I love spending a few hours in there browsing the clothes, shoes, handbags, household items and children's wear, finishing off with lunch and a glass of wine in one of the restaurants. 
 
It's had a mention in one or two of my novels, too! I remember being taken to the toys department as a child and, of course, to see their Christmas window displays over the years. What about your favourite North-Eastern slang? What does it mean? 
'Ye alreet pet' is my favourite Geordie slang. My Dad always greeted me with this. It means 'Hello, how are you?'. Although, in my opinion, it has so much more warmth and is an endearment. 
 
The North East is packed with history, myths and legends, songs and folklore. Do you have a favourite song or verse that you associate with the area? Â 
Mark Knopfler, 'Going Home – Local Hero'
 
Who is your North East hero? 
My dad is my North East hero. He was a typical working-class Geordie man. He worked hard, was strong, tough, kind, loving, filled with a zest for life, loved to party and adored his family. He didn't have an easy or privileged life, was one of seven children, but never complained about anything and made every second count.
 
 He passed away just over a year ago after being ill for several years. He was very much his own
man,
a real man and I will always be proud of him.
 
Your dad sounds like a true North East hero. Finally, Karen, what makes you smile? 
My family makes me smile. My husband Mark, our children and grandchildren. Ricky the dog always gets a big smile too!
 
Thank you, Karen!
If you or anyone in your family is suffering with cancer or its effects, don't forget to check out a Maggie's Cancer Centre near you. Special thanks to Kate Baguley for helping to co-ordinate these special interviews, and to Donna-Lisa Healy for the portrait.