Blog
Dr Jacky Collins, Dr Noir, Newcastle Noir Festival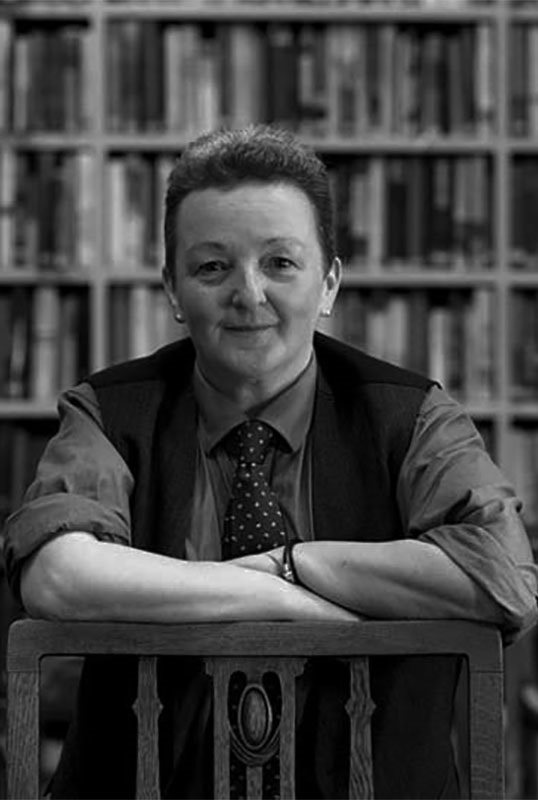 Meet some real-life heroes in my series of special interviews with people who represent the spirit and heart of the North East.  
Dr Jacky Collins, also known as Dr Noir, was formerly Senior Lecturer at Northumbria University in Literature, Film & TV and Spanish Language & Culture, and is currently based at Stirling University. In 2014, Jacky established the International Crime Fiction Festival Newcastle Noir, supporting arts in the North East whilst connecting readers with hundreds of authors from around the world. More recently, she has been venturing into local radio, co-hosting a fortnightly crime fiction programme on SpiceFM, hosting online literary events with the Honey & Stag events team, and is part of Corylus Books, a new indie publisher of crime fiction in translation. Jacky was also one of the judges on this year's Lindisfarne Prize for Crime Fiction!
For NN2021, with an eye to remaining Covid-cautious, they have decided to organise a one-day festival taking place on 5 December, with a focus on celebrating the very best of Northern Crime Writing.
In this interview, Jacky tells us about setting up the festival, her favourite North East myth, and more…Â Â 
Please tell us a bit about you and your connection with the North East. 
I first came to the North East in 1981 fresh from school and ready to start a degree in Scandinavian Studies at Newcastle University. I fell in love with the city and the people straightaway. So much so that it was the easiest decision in the world to return in 1991 and do my PGCE (teacher training) at Northumbria University. After 25 years' service teaching Modern Languages and Film & TV Studies at Northumbria University, I can say without a doubt that Newcastle has been the place that saw me develop personally and professionally. I will be forever grateful for all that I have experienced in my years spent on Tyneside.
 
Tell us about Newcastle Noir, why you established it, how it has grown, and your role there.  
Newcastle Noir was established with a view to promoting top-class crime writing in the region and as a celebration of this intriguing and increasingly diverse genre. Being aware of the Theakstons Old Peculier Crime Writing Festival, Bristol CrimeFest, and Bloody Scotland, I wanted to host a similar event in the North East to which we could invite local, national, and international authors. Since we began, we are thrilled to have been able to welcome writers from further afield to give avid crime readers from the region the opportunity to hear and meet these authors without having to travel great distances. 
 
Newcastle Noir grew out of very humble beginnings. In May 2014, we hosted 9 authors on 3 panels at
Newcastle's Literary and Philosophical Society
. During the afternoon, the audience was asked if this festival should become an annual event and if so, what should it be called – 'Newcastle Noir' it was! Fast forward to 2019, the last time the festival was held 'in real life' before the pandemic, we welcomed over 60 authors from all over the world for a 3-day crime fiction feast celebrated at Newcastle City Library. 
 
We were also able to celebrate the first award of
The Lindisfarne Prize for Crime Fiction
, sponsored by you, Louise, through your publishing imprint, Dark Skies Publishing, in association with the Newcastle Noir and Newcastle Libraries.
 
I'm the Creator and Director of this festival, and my main responsibility is putting together the festival programme. However, I have to say that without the invaluable support from Newcastle Libraries, an amazing group of volunteers, and the wonderful community of NE crime writers, Newcastle Noir would never have become the vibrant success it has. Although we held the festival online in 2020, we hope to be back in the City Library for 2021, after all, the unique selling point of Newcastle Noir is Newcastle!
 
Thanks for sharing that with me, you know how much I love Newcastle Noir and the crime fiction community in the North East! 
The North East is packed with history, myths and legends, songs and folklore. Do you have a favourite piece of writing, song, or poem that you associate with the area? 
Having lived in Rothbury for several years, I was always fascinated by the tale of
The Simonside Dwarfs
. This particular legend involves a group of beings who were said to lead travellers astray at night in the Simonside Hills. The story goes that people lost at night follow torches being carried by the dwarfs but are led off into marshland and sink to their deaths. For me, this legend combines three elements very dear to my heart – the Northumberland landscape, crime and mystery, and dwarfs (I'm a huge fan of J R R Tolkein's writing).
 
That's a great tale to tell! 
It's often said that the people and landscapes of the North East are full of 'spirit' and 'heart'. What do you love most about the region? 
The wild spirit, deep sense of belonging, and the open heart.
 
Is there one place in the North East that you always like to visit and would recommend to others? 
This is the hardest question, as there are so many possibilities to choose from. However, I think I'm going to opt for Cullercoats Bay, as it has all you could wish for a great North East day out at the coast and I have some special memories of plodging along the water's edge with very dear friends. 
 
Do you have a favourite shop or business you think everyone should know about in the region? 
It makes me sad knowing that so many smaller businesses have been struggling so much over the last 18 months. But I'd like to give a shout out to
The Garage Coffee Shop
on Stoddart St, Shieldfield. They serve excellent coffee and tasty snacks, and the lunches there are delicious. 
 
What about your favourite North-Eastern slang? What does it mean?  
"Gan on the Hoy" – Going out drinking. It reminds me of so many wonderful nights in the Toon with friends and colleagues.
 
Who do you think is a hero in the North East?  
Bobby Robson – without doubt a gentleman, a sportsman and someone who brought, and still brings, a great sense of pride to the North East.
 
Finally, Jacky, what makes you smile? 
Sitting down over a coffee or a glass of wine with a group of friends discussing a newly-published crime novel – pure bliss!
 
That sounds like my kind of bliss too! Thank you so much for joining me, Jacky, and for speaking about Newcastle Noir and the work you do, it was fascinating to hear about! 
Thank you to Kate Baguley for helping to coordinate these special interviews.