Blog
Mim Skinner and Nikki Dravers, REfUSE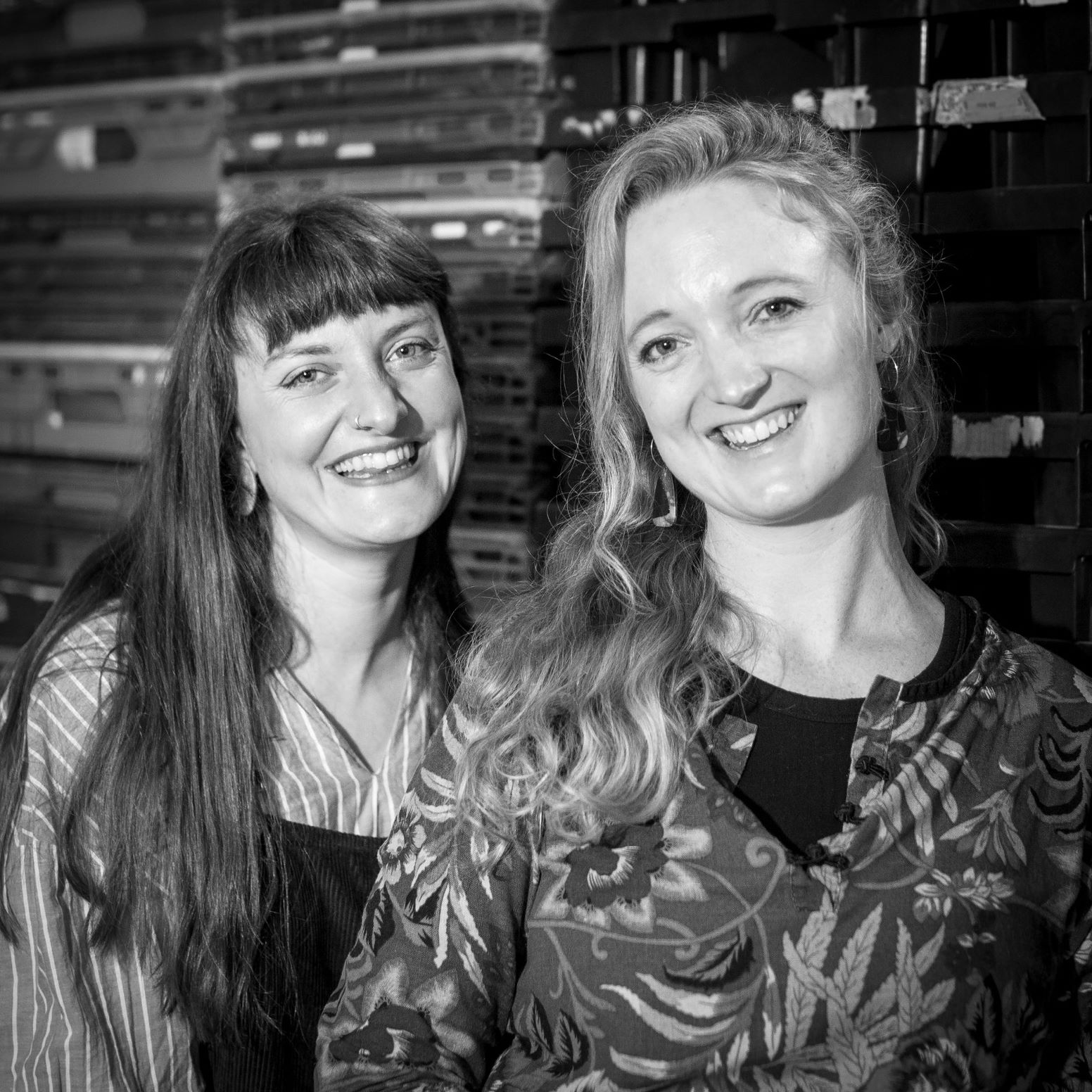 Meet some real-life heroes in my series of special interviews with people who represent the spirit and heart of the North East.  
Mim Skinner and Nikki Dravers are the co-founders of REfUSE, where they intercept food before it becomes waste and make it into healthy meals at their Pay-As-You-Feel cafe in Chester Le Street. During the pandemic, REfUSE have redistributed food into their community on a 'pay as you decide' basis, providing an estimated 80,000 meals across the three lockdowns.  
In this interview, Mim and Nikki tell us about REfUSE's mission, their favourite North East stories, and more… 
Mim and Nikki, please tell us a bit about you and your personal connection with the North East. 
Mim: We have both lived here 11 years now after coming up from the South for uni and we're both evangelical about the North East. In twenty-five minutes, you can be at the beach, in the hills, an excellent haberdashers, seeing otters by the river or at amazing theatres, galleries and restaurants.
 
Tell us about REfUSE, your role in the community, how people can support you, and how the pandemic has altered your work.  
Nikki:
We founded REfUSE together 6 years ago, in response to the problem of food waste and its contribution to the climate crisis. We started off by collecting from local supermarkets and hosting meals in community centres and town halls, and now we have a 1250sqft warehouse where we collect, sort and redistribute 13 tonnes of food a month which would all otherwise be thrown away. We work with huge manufacturers, almost all the supermarkets and local bakeries. Our food is redistributed on a 'pay what you decide' basis meaning that people can pay in money, time or skills and everyone can come and eat. Some of our customers are financially wealthy and looking to consume more ethically, and others would struggle to afford healthy food without it, so it brings people together from many different walks of life. We give people training and confidence who have barriers to employment or suffer with poor mental health, partner with environmental organisations and social prescribers.
The pandemic has been incredibly busy for us. Although many of our projects have had to shut down, everyone has been re-commissioned to make sure food gets to those that need it. We've provided an estimated 80,000 meals across the three lockdowns.
If people would like to join and support, they can raise money, come along to the cafe, hire our catering company for their event, or volunteer for us.
 
It's often said that the people and landscapes of the North East are full of 'spirit' and 'heart'. What do you love most about the region? 
Mim: Our social enterprise is on the Front Street at Chester Le Street. Having a high street premises and working with food instantly connects you with so many people who walk up and down that street. I love the buzz of conversations and community, the stories we get to hear of other people's journeys and the joy of meeting those going through huge challenges themselves but giving everything to improve someone else's day.
 
Nikki:
Our cafe was built by volunteers, using funds raised in a crowdfunder. So many people gave generously – fundraising for us, donating furniture, helping with the plumbing and painting. We were amazed at the community spirit, kindness and determination we saw just through the building project, so we were confident that when we opened we'd see that even more in our volunteers and loyal customers, and we were right. The hotch-potch of community that we have in our volunteers – from ex-offenders to vegan activists to retired teachers – is amazing and, particularly over this past year, we've all come together to support each other, in a way that makes us feel more like family. 
 
I can imagine that is extremely rewarding, and great to meet people from all walks of life. Which three words best describe the North East to you? 
Mim: 'Creativity', 'community', and 'kindness'.
 
Is there one place in the region that you always like to visit and would recommend to others? 
Mim:
We love to swim in the Wear, have brunch at
Broomhouse Farm
, and look for seaglass at Seaham. Failing that, I can spend several hours in Chester Le Street
Boyes
.
Nikki:
The coastline, generally! Any of the huge, breathtaking beaches of the Northumberland Coast: Alnmouth, Bamburgh, Druridge Bay, Holy Island. Closer to home, the Durham Heritage Coast cliff paths are lovely, and we're really getting into swimming in the sea at Roker Beach in Sunderland, and Tynemouth in Newcastle.
 
Do you have a favourite shop or business you think everyone should know about in the region? 
Mim: Clean Seventeen is a cafe in Sunderland, recently set up by the ever-talented Lee and Chloe from Clean Prep Up North and is completely irresistible. They are MAGICIANS of halloumi and offer clean or dirty versions of your favourites. Have a look on their Instagram and get their take-away right now.
 
That sounds like a great recommendation. What is your favourite North-Eastern slang? What does it mean?  
Mim: Radge. Radgie (Noun) (Verb): 'A radge night out', 'A group of radgies in the pub', 'My toddler had a radgie in the toy shop.'Â Versatile.
Nikki: Using the word 'hoy' for 'throw' – i.e. 'hoy it in the bin'. Or the phrase "shy bairns get nowt" – it's something I've learned through running REfUSE, people really want to help and sometimes you just have to ask!
 
The North East is packed with history, myths and legends, songs and folklore. Do you have a favourite song, book, or story that you associate with the area? 
Mim:
I love the story of
Grace Darling
and of the
fiddle-playing Polish Count
who has a little folly by the Wear in Durham. Also, very unoriginal, but I finally learnt the words to the Lambton Worm song after many years of mumbling along to the tune and now truly feel local.
 
Nikki: I've enjoyed learning all about the Celtic saints of the North: Aidan, Hild, Cuthbert. Hild in particular was an amazing woman leader of the early church –  way ahead of her time!
 
Who do you think is a hero in the North East?  
Everyone who is trying to keep a Highstreet premises, venue or pub going in a pandemic. We've missed you and hope you make it through.
 
Finally, what makes you smile? 
Getting to work with such fantastic folk. In the grimmest of years with some huge challenges ahead of us, it is an overwhelming privilege to work with people who believe in the possibility of transformation and positive, creative community action and who have the audacity to think we might be part of the solution.
 
Thank you so much both for joining me, it was fascinating to hear about the very important work you do! 
Thank you to Kate Baguley for helping to coordinate these special interviews.