Blog
Helen Stanton, Forum Books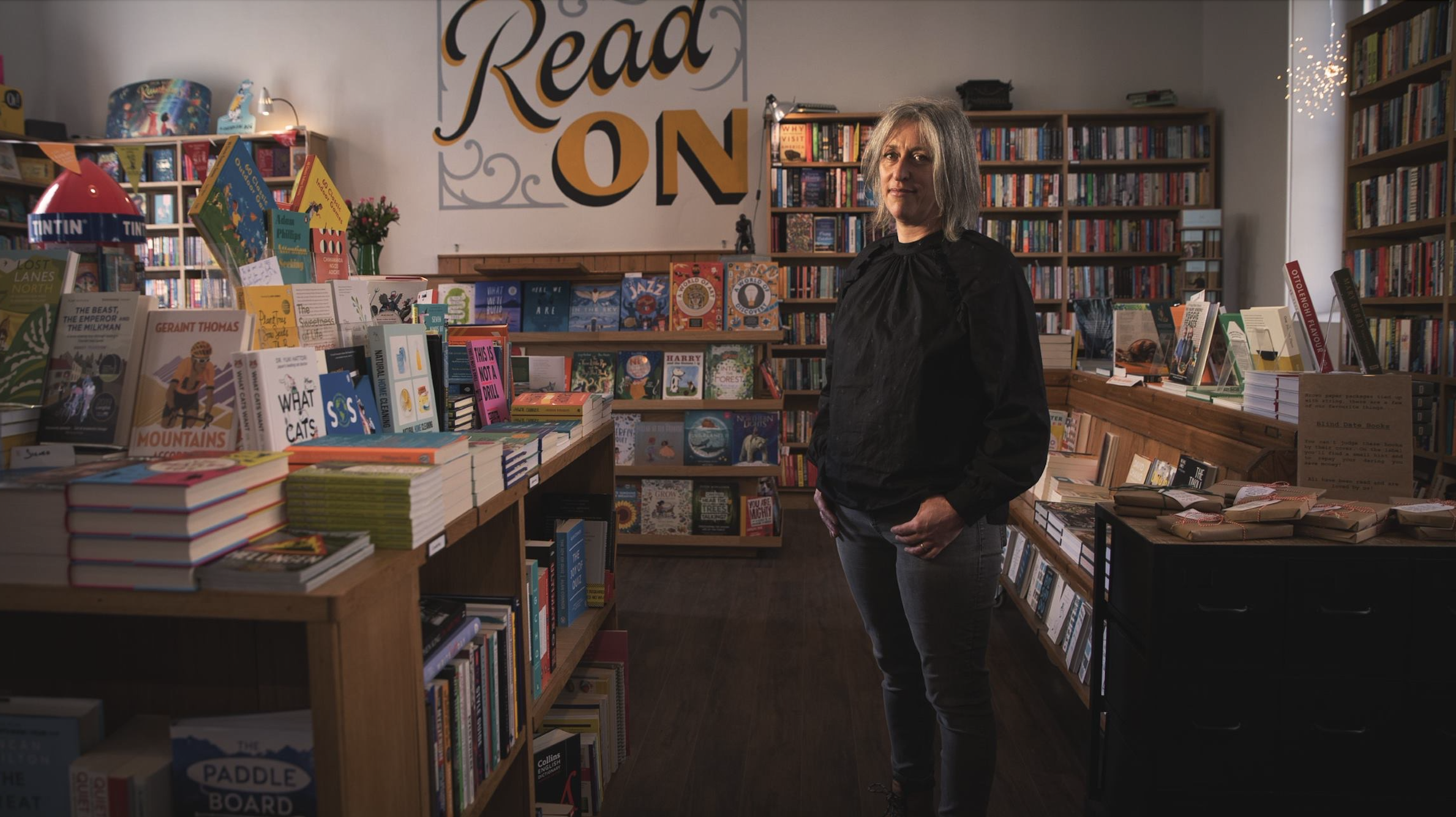 Meet some real-life heroes in my series of special interviews with people who represent the spirit and heart of the North East.
Helen Stanton is the owner of the gorgeous Forum Books, an independent bookshop based in Corbridge, and The Bound, based in Whitley Bay. Helen is also working on a new bookshop in Alnwick – The Accidental Bookshop – which will be opening very soon!…
Forum Books is the perfect place to find your next read and they were shortlisted (again) for Best Independent Bookshop in the British Book Awards 2021.
In this interview, Helen tells us about bookselling, a Gene Kelly clip that makes her smile, and more…
Helen, please tell us a bit about you and your connection to the North East.
Unbelievably, it's coming up to ten years since I took over / bought Forum Books in Corbridge; that was a move back home, a move back to the North East. I was born in Newcastle and grew up mostly in Consett. My Mam and Dad were both from town – Mam had been a Theatre Sister at The R.V.I. and my Dad had worked at the Hancock Museum, now the
Great North Museum: Hancock
. I took the unimaginative career advice at the time and left at 19 to study and work in London, then Glasgow and Edinburgh. Working for Waterstones in Glasgow, and independent publishers Canongate then Birlinn, was a great base for taking on a bookshop – I took redundancy when on maternity leave and at that point the bookshop came up for sale… and the rest is another story.
Tell us about Forum Books and your job!
This is my dream job! I have always loved books and reading. For me, this is where the fun is at! The job is varied as new books are published all the time, so there's a lovely flow of fresh new covers and authors to get excited about. We also do events – now moved online with
At Home With 4 Indies
– both for a general audience and for schools. It's a wonderful, collaborative and constantly-changing industry to be part of and I truly believe independent bookshops are a vital part of the ecology of books and reading.
I completely agree, independent bookshops are at the heart of the book industry, and you make your job sound dreamy!
It's often said that the people and landscapes of the North East are full of  'spirit' and 'heart'. What do you love most about the region?
The landscape is beautiful – I love the open moors, the big skies and the coast is stunning too. Newcastle is such a great city too and coming north across the Tyne and seeing the bridges is one of the best views ever…especially if you've been away for a bit!
 
Nothing beats that view, it's a real 'welcome home', isn't it?
Is there one place in the region that you always like to visit that would recommend to others?
One place? Ooh…very tough choice but let's say the coast – the beaches and dunes at Warkworth, and a chilly half and a crab sandwich at
The Ship Inn
, Low Newton.
Sounds like a perfect day out.
Do you have a favourite shop or business you think everyone should know about in the region?
To choose one at this time is not just tough, but impossible! I really hope lots more people appreciate the independents we have on our North East high streets and they need our support more than ever! So a
few
of my favourites:
For the Love of the North
,
Barter Books
,
The Cookhouse
,
The Rat Inn
,
The Old School Gallery
at Alnmouth and
North Chocolates
.
Some amazing recommendations there!
Which words best describe the North East to you?
'Home', 'Canny'.
Your favourite North-Eastern slang? What does it mean?
'Wor' ('wor kid' 'wor Helen') means 'our' and just has so much warmth to it. 'Hinny' is lush too. I also like 'photocopier'; not slang but a great word for the Geordie accent!
Ha! That's funny.
The North East is packed with history, myths and legends, songs and folklore. Do you have a favourite song or verse that you associate with the area?
'The Water of Tyne' gets me every time…with a tear in mine eye. Honestly – try listening to
Kathryn Tickell's version
.
Who do you think is a hero in the North East?
Brendan Foster, founder of
The Great North Run
, which is not just a brilliant idea but a fantastic thing to be part of and a real celebration of the North East too – I've managed to run it three times and took part in the 'millionth runner' one – unforgettable!
Tish Murtha's photographs of the North East are just wonderful and I have been really pleased to hear a documentary about her life and work is crowdfunding.
Great choice of heroes!
As a final question, Helen, what makes you smile?
My daft dog and kids, people holding hands, the first cup of coffee in the morning, a good view / walk / sky, going to the beach for the first time in ages…and if I'm really stuck,
Gene Kelly dancing on roller skates
.
Thank you so much for joining me, Helen!
Thank you to Kate Baguley for helping to coordinate these interviews.