Blog
Jonathan Dryden, Blacks Corner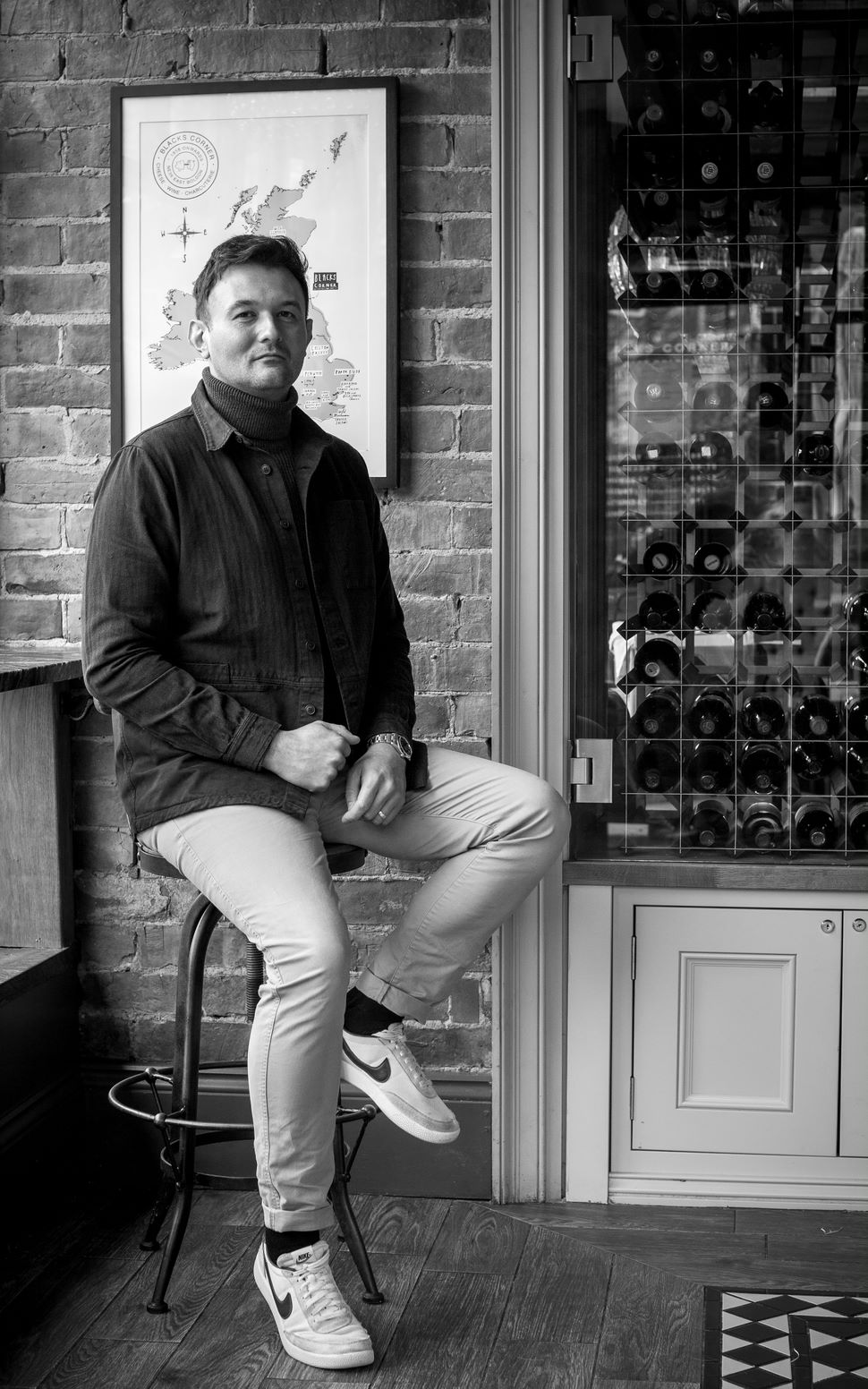 Meet some real-life heroes in my series of special interviews with people who represent the spirit and heart of the North East.
Jonathan Dryden is the co-founder of Blacks Corner, a speciality delicatessen, high-end eatery and wine bar based in East Bolden, South Tyneside.
During the pandemic, Blacks Corner have been a pillar in the community, setting up a community outreach fund where people can donate to buy a shopping basket for someone in need, where they delivered almost 500 relief hampers to people in self-isolation. Blacks Corner also ran a crowdfunding campaign to support British farm cheesemakers who, due to Covid-19, had unsold produce sat in storerooms. The crowdfund was to help those who need support but are too small to receive national help.
In this interview, Jonathan tells us about his fascinating exploration of shipwrecks, his philanthropic ventures over the years, and more…
Jonathan, please tell us a bit about you and your connection with the North East.
I'm the co-founder of Blacks Corner, one of the country's most ambitious food businesses and a brand with heart that balances a modern approach with tradition and community. Our brand seeks out historical properties for restoration and we use our building partnership to design, restore and celebrate British Farm Produce. When I'm not welcoming guests into Blacks Corner, strangely you might find me sailing across the Mediterranean! I am also part of the
RPM Nautical Foundation
and assist in maritime archaeology projects, searching for shipwrecks and preserving underwater cultural heritage. This work has taken me to some beautiful places, and has taught me some valuable lessons in people, leadership, teamwork and adversity, which I absolutely apply to growing and developing our business in Blacks Corner.
Wherever I go in the world, the North East is indisputably my home.
Prior to Blacks Corner, my career was a combination of hits and misses, which led me to this point. Upon leaving school, I was sponsored by Dickinson Dees law firm to complete my legal qualifications. I then tried my hand at some early business ideas, and eventually I decided to look to the sea for adventure!
This was, and still is, incredible work, and appeals to my free spirit and insatiable sense of curiosity, but I knew deep down that I wanted my home to be at home.
2016 was the year for many things – a real turning point in my life. I met Isabella and we're now married. It's the year Blacks Corner was founded. It's the year Chris and I travelled all over the country, seeking out the farms we wanted to work with. It's the year we set up a stall at Borough Market London to perfect our trade. And it's through all of this that rekindled a love for the North East and enabled us to bring home our ambitious venture in 2017 and create the Blacks Corner that is thriving and expanding today.
Wow, that is quite a tale! The maritime archaeological research sounds incredible, and is so different to your work now, but is also grounded in discovery, curiosity, and the merging of history and the modern day. I loved hearing how Blacks Corner began, too, which is, as you say, absolutely thriving!
Tell us a bit more about Blacks Corner, its role in the community, and the philanthropic projects you've led since the pandemic began.
Blacks Corner is a speciality delicatessen, eatery and wine bar; making artisan produce a reality in our busy, modern world. Known for our use of local and home-grown British ingredients, we're a business with a story to tell, which is something we're really proud of.
Flavour leads the way when we select our cheeses and cured meats, and we source directly from farms across the British Isles. This involves working with around 25 cheesemakers to provide a top quality selection, as well as building a British artisan charcuterie menu around free range breeds.
We've also worked to make our premises as aesthetically beautiful as they can be; creating an intimate atmosphere and stunning interiors so that our guests can really get the most out of the experience. This was recognised when we were finalists for a Northern Design Award in 2017 and then nominated for the International Category Award of 'Surface Interiors' at the Bar & Restaurant Design Awards in 2018. We celebrate multiple Diners Choice awards and are now striving for a Rosette rating for our use of local and British ingredients.
Our role in the community begins with our unique position as a neighbourhood restaurant that actively contributes locally. Even our garden is always open and set up to be a community garden for passers-by to enjoy and relax, not just customers – it was once a tarmacked carpark!
In terms of philanthropic projects, this is something that's extremely important to us – our community has really supported us as a relatively new business, and we're keen to give something back. We are sponsors for our local PTAs and assist with our local park's association 'Friends of East Boldon Parks'.
During the initial lockdown, we were really pleased to raise over £10k into a Community Outreach Fund (which you, Louise, kickstarted with a very kind donation of £1,000!). This was used to not only deliver essentials hampers to those in isolation, but also specifically to inspire others to do the same. Unsurprisingly, the community did not let us down and the support for this initiative was fantastic to see.
Post-lockdown 1 (aren't we all losing count?), we set up a Crowdfund in partnership with the North East Local Enterprise Partnership (NE LEP), raising a further £5k, and this went directly to the farms we work with, who would be impacted by the pandemic. It also helped us save almost half a tonne of British produce from storerooms that would have otherwise gone to waste – instead it was distributed far and wide across the North East, by our modest but incredibly hard-working team of 27.
Blacks Corner really is a beautiful place, definitely a must-visit. Also, your charitable initiatives have been such a lifeline for people in the last year.
I'm all about local businesses supporting one another. Do you have a favourite shop or business you think everyone should know about in the region?
Yes, there are so many flourishing local businesses which help to make up the rich cultural tapestry of our local area, and I'm always keen to collaborate and support where possible. I have to start with the up-and-coming sustainable fashion brand
Saint Belle
. This is not just bias because it's my wife's start-up – it's because I've drawn real inspiration from her pioneering sustainability through innovative design, considered choices, and North East-based manufacture to bring her very own designs to life. I can't wait to see the brand demonstrate that you don't have to be based in London to set the fashion world alight!
I also think that everyone should know about
The Bunker
in Sunderland, a recording studio and breeding ground for talent, which has been at the heart of music, creativity and culture in the region for over 30 years. I was lucky enough to work alongside this business for a short period and I genuinely believe it is one of the most important contributors to the North East's cultural economy.
Amazing choices there that are doing work grounded in the North East.
What about your favourite place to visit in the North East?
I'm really spoilt for choice as we have such amazing variation right on our doorsteps, from the twinkling city lights to our astonishing coastlines. It's definitely not so grim up north in my opinion! I will try to answer in terms of where is good to visit in different seasons:
Spring: Cragside in Rothbury – steeped in Victorian history, you get lost in the beautiful house, grounds and woodland. 
Summer: Northumberland's prettiest seaside village, Alnmouth – peace and stillness, away from the hustle and bustle! 
Autumn: Gibside, to see the golden leaves falling on the walk to the Column to Liberty.
Winter: Good old Grey Street in Newcastle – regularly voted the best street in Britain for its stunning architecture, and seeing Swan's 4 lampposts still standing as pillars of progress.
It really isn't so grim up north! It's often said that the people and landscapes of the North East are full of 'spirit' and 'heart'. What do you love most about the region?
I couldn't agree more – the heart and spirit of the region is tangible. This comes through the friendly people you meet, full of understandable pride for their region, as well as through the extensive, varied landscapes and points of interest. Over the years, I've discovered that what I love most about the region is the attachments that you develop and the sense of identity that comes with those attachments – it really shapes who you are as a person. I think wherever you go in this world, the essence and true spirit of the North East always goes with you – and that is very unique.
I completely agree. What three words best describe the North East to you?
It's tough to narrow it down but I'd go with:
'Coastline' – for obvious reasons, we're incredibly lucky, 'Emerging' – it's an exciting time to be based in the North East, 'Undiscovered' – and this is what makes it so charming. What were once generational secrets are now becoming celebrated as must-sees.
What about your favourite North-Eastern slang? What does it mean?
I'm stuck between these two brilliant phrases which you definitely don't hear elsewhere: 'Wazzock', meaning a daft person, and 'Chollers', for cheeks / jowls.
Who are your North East heroes?
I really admire people who've made significant changes in the area, which would be far too long a list.
History is really important to me – I believe it's through looking to the past that we build our future. With that in mind, I'd have to say
Armstrong
– a towering figure of the Victorian era – is my biggest North East Hero. Think of Jesmond Dene, Armstrong Bridge, the Swing Bridge and the fact that he was founder of Newcastle University. Not to mention Cragside,
the Hancock Museum
and the philanthropic magnitude he contributed to institutions across the region – someone well worthy of our respect!
If we're talking modern day, I definitely wouldn't get away with writing all of this and not highlighting the other half of Blacks Corner which is my business partner, Chris Lowden. Hopefully together our building projects will continue, and we may have opportunities to contribute to our region at the same level as Armstrong did in his day. That's the dream!
Your contributions to the region have already been so much! As a final question, Jonathan, what makes you smile?
Well, despite the year we've had, I think there are lots of reasons to smile. For me, that might be taking our amazing but not-so-practical MG Midget to the coast for a long drive on a sunny day whilst trying to fit Lucie the Labrador into the footwell!
It's also about the little things, such as walks to the church garden where we got married in Cleadon. As a traditional kind of person, this place holds a lot of emotion to me as it's the same place my parents and sister also got married.
Our wedding was a perfect day in Spring a couple of years ago – we had the Blacks Corner market stall there, garden games and a string quartet playing our favourite Motown classics! But most importantly, the most golden memories are all about the people – our friends and family and half of the villages of Cleadon and East Boldon came along to see us married! So, thinking about that, and reliving that day, will always make me smile!
That sounds magical. Thank you so much for sharing all of this with me!
Thank you to Kate Baguley for helping to coordinate these interviews.