Blog
Russ Greig, The Miners Lamp Cafe & Community Hub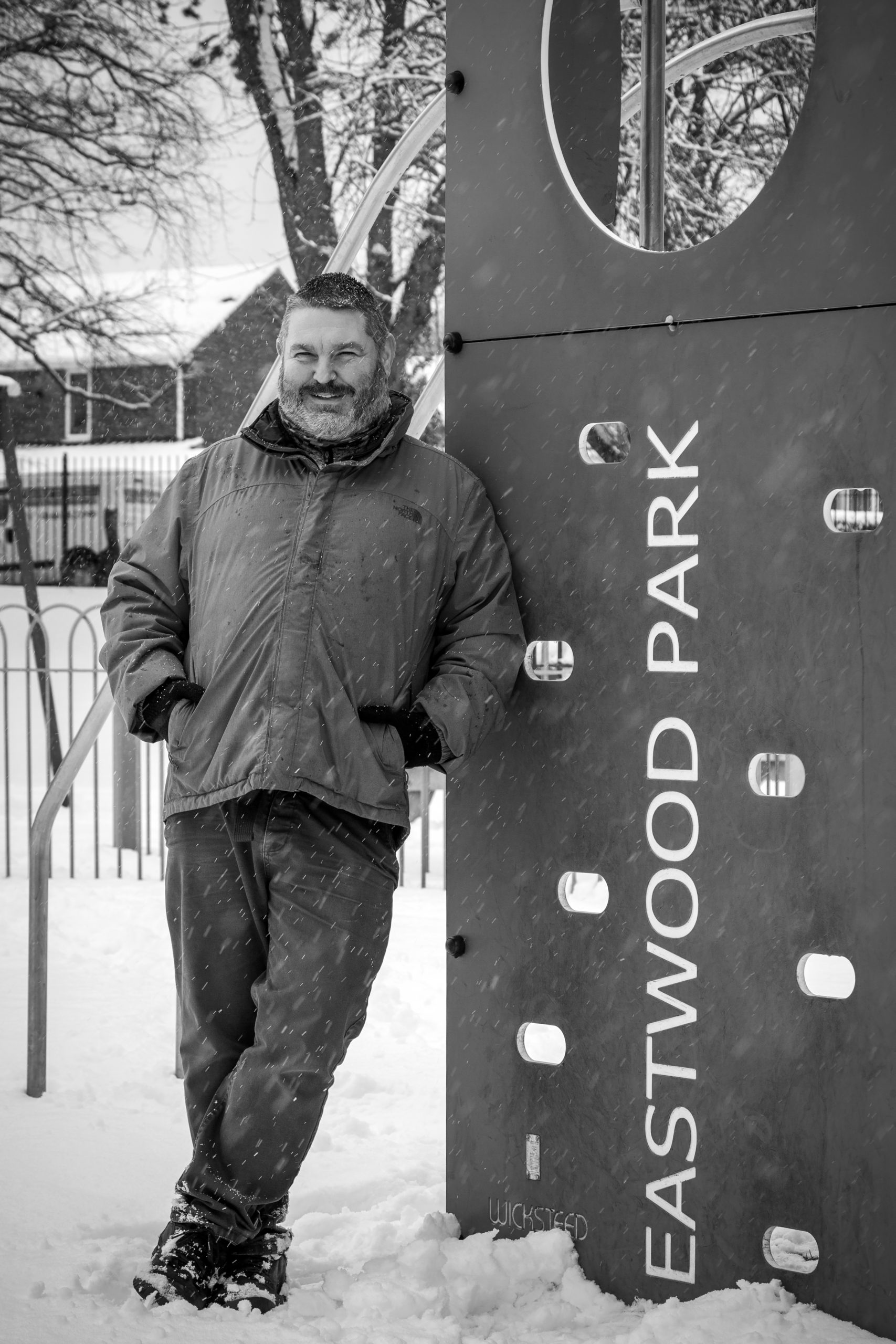 Meet some real-life heroes in my series of special interviews with people who represent the spirit and heart of the North East. 
Russ Greig runs the Miners Lamp Community Hub and Cafe, which opened in Prudhoe in 2019. During the pandemic, the Hub upscaled its food redistribution programme to redistribute over 25 tonnes of food which would have gone to landfill, all offered to people through their pay-as-you-feel market. 
In this interview, Russ tells us about his fascinating journey to setting up the Miners Lamp Cafe, what makes him smile, and more…
Russ, please tell us a bit about you and your connection with the North East.
Most of my family have come from the North East or made the North East their home in and around the Tyne Valley, all from ordinary working people like miners and farmers. When I was born, my parents lived in Hagg Bank near Wylam and I went to local schools in Prudhoe, where I now live. I have an interest in local history and family history and its been really interesting tracing my family tree; it was through this that I became interested in the area's industrial heritage. Many of my ancestors came to the Tyne Valley from places like Cumbria and County Durham, and more rural parts of Northumberland, for work as miners and farmers right up until my grandad, who was a miner at the Stagshaw Colliery outside Corbridge.
After leaving school, I worked in Prudhoe for a while, firstly with Barbara Caris, a firm of local solicitors, before moving away – at the time, you always think the grass is greener! I lived in County Durham for quite a while and, after a few years of working in bars, I went to work for Northern Rock. I'd always had an interest in the law and I became involved in trade unions – I found that was really for me, helping to sort people's workplace problems out and still retain some interest in the law. Shortly after becoming a trade union rep, I started on a Diploma in Trade Union Studies at the Northern College in Barnsley, so this meant I was away for weekend lectures and distance learning. It was through this that I really think I found my place.
During my studies, I had the chance to go to Geneva to the International Labour Organisation and learn about their programmes around the world as part of the United Nations. After studying for my Diploma, I had caught the learning bug – I finally liked learning as an adult, doing something I really enjoyed. After my Diploma, I was accepted on to the part time BA Hons course at Ruskin College in Oxford in International Labour and Trade Union Studies. This was again distance learning and study and lecture weekends. This lasted for 5 years, and I think I worked out I had driven the circumference of the globe just to and from Oxford for lectures. It was during my studies that, in 2007, Northern Rock collapsed. At the time, I was the only full-time trade union rep and, seeing the queues at the bank, I knew that many jobs could be lost. Over the next couple of years, it seemed like a whirlwind. I was regularly travelling from the North East to Westminster making the case for saving the bank because of the social and economic impact of the banks' collapse. Not just for direct jobs, but thinking of the impact even on the small sandwich shop on Gosforth High Street near Northern Rock's head office. I met regularly with MPs, and even managed to arrange a meeting with the then-Chancellor Alistair Darling in his office at the Treasury.
Northern Rock had been such a big part of the North East, and the staff themselves weren't going to give up. The Northern Rock Foundation had put so much back into charities in the North East and all of that was at stake. 
After Virgin Money acquired Northern Rock, the company had changed, and I thought for myself it was time to move on to something new. I had just completed my degree, and having spent the last 8 years studying, I wanted to not only continue my adult learning journey, but also make more use of my knowledge. I took a job as a trade union tutor, teaching new reps about the role of a trade union rep. I really enjoyed this as I could help mentor and channel people's enthusiasm and passion for helping people. I then wanted to learn more and started to study for my Post Graduate Certificate in Education. It was through this that I really experienced the world of teaching, which was a completely different world to the one I had been in.
After a while teaching and developing trade union courses for the TUC, a position with a teaching union became available and I became a Regional Official supporting members across Northumberland, Newcastle, North and South Tyneside. I really enjoyed this job as I was again able to mentor and support reps in the workplace, as well as help people directly with case work myself. 
I've always said that when you're involved with trade unions, you never meet anyone who is happy in their job, and unfortunately sometimes that takes its toll on your own mental health. Dealing with other people's problems and issues at work often adds to your own stress and worries, and although they're not directly your problems, you don't become a trade union rep if you don't have empathy for people, so it's natural to take some of that burden on. Unfortunately, this affected my own mental health a few times during my life and I was starting to feel the strain. It was time for a completely drastic rethink.
It was around this time that we had created the
Friends of Eastwoods Park
in 2017, we were just a small group that wanted to make a difference to Eastwoods Park. I had returned to live in Prudhoe in 2013, and had seen the poor state the park was in compared to when I used to play there as a kid. We started litter picking, and then tidying flower beds and cutting overgrown shrubs back. Then, there was the eyesore that was the old bowls pavilion, which was closed up and covered in graffiti. The building had been broken into and had various issues with antisocial behaviour in the park. So, my next thought was: 'we've tidied up the park, what do we do with the building?'
That's really interesting! So how did the building then become the Miners Lamp Cafe and Community Hub?
Having tidied up the park, we needed to do something with the building. At first I contacted a few community groups and organisations that might make use of it, but no one wanted it. I then thought, 'If no one else does, why don't we do something ourselves?'. So, I floated the idea with our little group, and with the local councillor who was supportive. 
I started working on a plan to bring the building back into use. In our part of Prudhoe, we had no community facilities and no public facilities for the park itself. Northumberland County Council and Prudhoe Town Council had just invested a lot of money in a new children's play area, but what use would it be if children didn't have access to toilets, or parents to other facilities? So, the idea of our community cafe was born. From the start, we wanted it to be about the community and we had to go through a tender process to secure the building. In early 2019 building work started, and I was lucky enough to take some time off my day job to be able to get stuck in and do work on the building myself, which really helped my mental health and provided some focus for me. I roped in my niece who is an interior designer and helped with the design of the place. Eastwoods Park had previously been a miner's welfare park for the West Wylam Colliery – much of it had disappeared, and it was nearly 60 years since the colliery closed, so it was fading from living memory. With that in mind, we decided we could use the Miners Lamp as a way of promoting and publicising our industrial heritage and the people that worked there, as well as life around the park.
Initially, we planned for the Miners Lamp to be a community cafe and community space for groups to use. We had previously held a summer fun day in the park and we wanted to do more activities like that, but it's strange how things take a different turn. The Miners Lamp opened in April 2019, and we got children from the local first school to open it for us. It was great because we wanted them to feel like they had some ownership of it, as it was hopefully going to be a big part of their lives in the park. After we opened, our cafe was a great success, we would have many dog walkers during the day come by and we wanted them to feel like they were welcome. We've developed some fantastic relationships with some wonderful local people. 
With funding from other organisations, we were able to hold activities and events for children as well as support our community with issues such as holiday hunger. 
During the pandemic, our hub took on an even bigger role. We looked at upscaling our food redistribution program by working with Fareshare and taking donations from supermarkets to redistribute food which would otherwise have gone to landfill. We offer this through our pay-as-you-feel market, where people can just make a donation in exchange for food. Between March and the end of 2020, we redistributed over 25 tonnes of food which would have gone to waste, otherwise. In addition, we secured funding from a range of organisations to buy our own van and additional fridges and freezers so we can prolong the life of the food. We also saw a big increase in requests for support from our food bank and visitors to our pay-as-you-feel market. As lockdown continued, we decided to try and help some of our elderly and vulnerable residents, so we began to deliver free meals to local residents, and during the school holidays we provided meals or meal boxes to families in need. These were available to any family, not just those in receipt of free school meals.
Our hub has been a real lifeline for many people, whether that's because they've seen their income drop due to furlough, or because they have unfortunately lost their job because of companies cutting back as a result of the pandemic. 
In February 2020, we were lucky enough to secure grant funding for me to work full time at the hub for the next 3 years. I had previously decided to leave my former employer in 2019 to concentrate on getting the hub up and running, but also for the benefit of my own mental health. So, being able to secure the grant funding meant our work could continue for at least the next three years. I now run the community hub along with our trustees and volunteers and we're all very involved. I'm often accused of being a control freak and not asking for help when I should, but I'm also a strong believer in the idea that, if you're going to do something, do it with maximum effort.
Working at the Hub has given me a renewed focus, and I've made some wonderful friends from the project.
If they want to, people can support our project either through monetary donations, or food donations to our food bank. They can also support us by visiting Eastwoods Park and enjoying what our park has to offer. People can also like our
Facebook page
and support us through that.
That is an incredibly inspiring story of hard work, determination, and real community spirit. I love the work that you do, and thank you for sharing your story with me. If you had to summarise, which three words best describe the North East to you? 
Countryside, beaches and welcoming. 
It's often said that the people and landscapes of the North East are full of 'spirit' and 'heart'. Tell us, what do you love most about the region?
I love the fact that I can go for a walk from my house and be in ancient woodland or go along the river, but also be within a short drive of some fantastic moorland, beaches and countryside – places like Bamburgh, with miles of stunning beaches. I've been to London many times for work, but I've always looked forward to coming home, especially seeing Penshaw Monument and knowing the train isn't far from home, then crossing the River Tyne into Central Station, and feeling like you're home again. 
I love the fact we have some wonderful communities in the North East who support each other. I love the fact we cherish our own identity and our heritage – and how, if you ask for a ham and pease pudding sandwich anywhere outside the North East, you're met with a look of bemusement!
Is there one place you always like to visit, that you would recommend to others?
Yes, I love to visit Bamburgh and Seahouses. We used to go there as kids on day trips during summer holidays with my grandad, and I always say people should visit there. The vast beaches at Bamburgh and the backdrop of Bamburgh Castle can't be beaten. 
I completely agree! What about a favourite shop or business in the region?
I think there are so many across the North East, I love to have a good rummage around an antique shop or vintage shop.
Ashbourne House Antiques
in Hexham is a great place to look around. They have everyday antiques and collectable items. But also I love places that do great food: butchers and bakers that have some of my favourites like corned beef pie, and not to mention good fish and chips. In Prudhoe, we have
Balls Chip Shop
which has just celebrated their 50th Anniversary and is still a family-run business. 
Nothing beats good fish and chips! The North East is packed with history, myths and legends, songs and folklore. Do you have a favourite song or verse that you associate with the area?
For me, its Ralph Vaughan Williams' The Lark Ascending. It always reminds me of summer. I used to spend a lot of time with my grandad who lived near Harlow Hill and worked on the reservoirs there. We used to walk around the reservoirs and, in summer, you could hear the Skylarks singing high in the sky. 
What a lovely memory! What about your favourite North East slang? What does it mean?
I regularly use the word 'canny', and I guess it's probably best described as meaning "okay". If asked how you are, it's often, "Aye canny, man". I think it kind of sums up the North East spirit a bit, too. No matter what, everything is 'canny'.
'Canny' definitely represents the North East spirit! I'd love to know, who are your North East heroes?
For me, my heroes are the ordinary working men and women of the North East. The labourers and workers who made Newcastle such a big industrial city. The 14-year-old lads who left school to work down coal mines, in iron and steel work or brick works, and ship works to make our region renowned. History remembers the big names like Armstrong and Stephenson, but without the people working the furnaces or digging the coal, they wouldn't be famous.
I couldn't agree more. As a final question, Russ, what makes you smile?
My dogs make me smile every day; the love and devotion from them. I have two Brussels Griffons and they are such characters.
I also love riding my motorbike, and, on the first warm day of spring or summer, I enjoy getting my bike out and going for a ride -  the feeling of freedom on a motorbike and having some wonderful places in our area to visit is hard to beat. 
I also like the feeling of the warm spring sunshine on my face, seeing bulbs come into flower as warmer weather arrives, sitting in my garden and listening to my canaries singing in their aviary, putting all their effort into singing, knowing that summer is on its way.
Sometimes, I think we miss the things that make us smile or bring us joy because our lives are so busy. 
That's a lovely sentiment, Russ. Thank you for joining me for an interview, it's been wonderful learning about all the inspiring work you do and have done for your community!
Special thanks to Kate Baguley, who helped co-ordinate this interview.