Blog
Tamsin Robson, radio presenter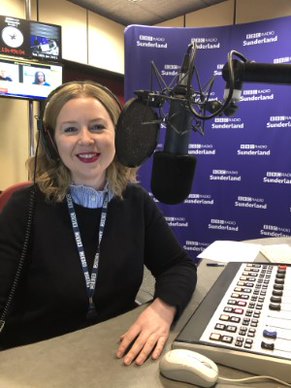 Meet some real-life heroes in this series of special interviews with people who represent the spirit and heart of the North East.
Tamsin Robson was born and bred in the North East, and now works as a Radio Presenter at BBC Radio Sunderland, Radio Tyneside, and BBC Radio Newcastle.
In this interview, Tamsin tells us about her job as a radio presenter, her favourite North East restaurant, and more… 
Tamsin, tell us a bit about you and your connection with the North East.
I was born in Newcastle, raised in South Tyneside and went to school in Sunderland. At 19, I headed for the bright lights and persistent rain of Manchester where I studied at university (and did a lot of partying), but came back to the North East to complete my Masters at the University of Sunderland. In 2016, I decided on a career change, and moved to Devon to train as a pastry chef, and though I was tempted to stay there, the North East was telling me to come home.
Tell us about your work at BBC Radio Newcastle and Radio Tyneside.
I started volunteering at Radio Tyneside just over 10 years ago. I was at that stage where I had finished my studies and I wasn't really sure which career path to follow, so I thought I would give radio a shot. My Mum always told me that I had the gift of the gab and loved music, so it seemed a good fit. I got involved with Radio Tyneside, gave it my all and within a short time, I was presenting three shows a week and producing a specialist music show for one of our older volunteers. My time at Radio Tyneside landed me opportunities at a number of commercial stations around the region, then in 2019 an opportunity came about at BBC Radio Newcastle, which for me was a pivotal moment in my career. Since landing a job at the BBC, I have presented weekend and evening shows, covered pretty much every other slot in the schedule and has recently landed me an opportunity hosting mid-mornings on BBC Radio Sunderland.
The North East is packed with history to do with listening; myths and legends, songs and folklore. Do you have a favourite song or verse that you associate with the area?
Several years ago, I was very fortunate to see Sting perform 'The Last Ship' at the Sage Gateshead. The show was originally on Broadway, but came to the North East for only a few nights. Though there are many wonderful pieces of music about the North East, something about that particular show and the music. The atmosphere on the night was electric. Not only had people travelled from all over the world to see him perform, but I left the Sage Gateshead with goosebumps and feeling extremely proud of my heritage and the history of the North East.
It's often said that the people and landscapes of the North East are full of 'spirit' and 'heart'. Tell us, what do you love most about the region?
I think there is a real honesty and a warmth about the North East that you cannot find anywhere else. We're very friendly people and will go out of our way to those not from the area feel welcome. I love the coastline and, growing up close to South Shields, the beach has always been a favourite place of mine. I think Grey Street is one of the most beautiful streets in the world, and I never tire from looking at the Georgian architecture in Grainger Town. I love strolling through the
Grainger Market
, and along the Newcastle Quayside all the way down to
Ouseburn
where
The Free Trade Inn
is possibly one of my favourite pubs – gotta love that window seat and the views of the Tyne.
I couldn't agree more! Is there one place you always like to visit?
I love the coast. Whether it is the Northumberland coast, North or South Tyneside or Sunderland. I think the beaches are some of the most beautiful in the country. I'm also a big fan of a
Minchella's
ice cream. Nougat wafer all the way!
Do you have one favourite shop or business you think everyone should know about in the region?
Two words…
Dosa Kitchen
. It's a fantastic South Indian restaurant based in Jesmond and my favourite place to eat. I'm a real foodie and love to cook, but for me, Dosa Kitchen is a real treat. I could eat their cauliflower curry and dosa all day! Washed down with a large glass of wine, of course.
Favourite North-Eastern slang? What does it mean?
'Canny'. It means nice. I just think it has a nice sound.
What are three words that best describe the North East to you?
'Warmth', 'honesty' and 'home'.
Who are your North East heroes?
My Dad. Back in the 80s and 90s, he had a successful clothing and manufacturing business in the North East. He had a great work ethic, which I hope has rubbed off on me and I'm so proud of his achievements.
My Mum and sister are also both big inspirations in my life. They have such strength and character and I couldn't imagine my world without them. Cheesy, I know!
They do sound like North East heroes! Finally, Tamsin, what makes you smile?
My job, rolling up my sleeves in the kitchen and making a great meal, and a nice gin and tonic.
Thank you so much for sharing with me what the North East means to you, Tamsin, and I loved hearing more about your career and you more generally.
Thank you to Kate Baguley for helping to coordinate these special interviews.