Blog
Sarah Ticherou-Bell, Feeding Families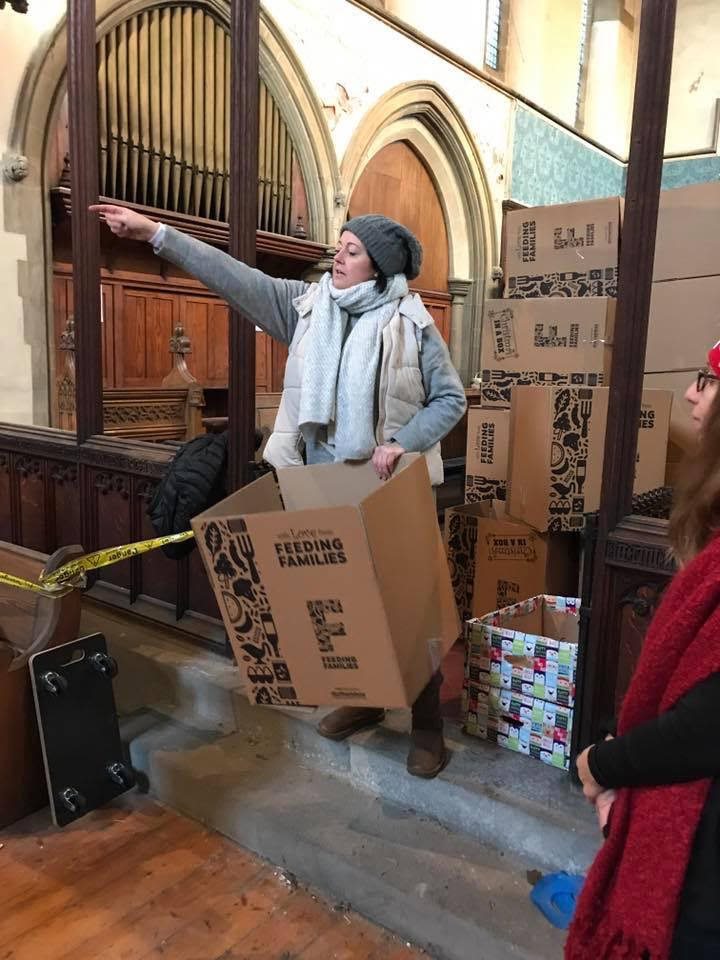 Meet some real-life heroes in my series of special interviews with people who represent the spirit and heart of the North East.
Sarah Ticherou-Bell is the Chair of Feeding Families, a food-poverty charity that operates in Northumberland, Tyne and Wear, County Durham and Cleveland. After living in Corfu for 20 years, Sarah felt the pull to move back to the North East and now lives in Morpeth.
In this interview, Sarah tells us more about how Feeding Families started, how you can support the charity, and more…
Sarah, please tell us a bit about you and your connection with the North East.
I was born in Newcastle and grew up in Westmoor, so I see myself as a true Geordie. I moved away at 19 to go to university and then ended up living in Corfu for 20 years, but the pull of the North East was always strong, and I have been living in Morpeth for the past 7 years.
Tell us about Feeding Families; its role in the community, your work there, and how people can support it. 
Feeding Families is a small local food-poverty charity which has very humble beginnings. What started as an offer to help at Christmas by our founder and CEO has grown into a movement of volunteers and businesses who want to support those most in need in the community. Our main project runs at Christmas as we try to spread some festive magic through food hampers, but the difficulties people have experienced this past year, has meant we have expanded to giving food, through charity partners, from our two packing centres all year round. I am Chair of the charity and with the hard work of our trustees, our small team of staff and the army of volunteers, we are continually developing new projects and innovative ways to tackle food poverty. Anyone can get involved, whether through fundraising, giving a hamper at Christmas, food donations or volunteering. You can find more information on our Facebook page or website.
I love the work that Feeding Families does, it's so important and has a real community spirit.
It's often said that the people and landscapes of the North East are full of this 'spirit' and 'heart'. What do you love most about the region?
The North East is such a wonderful place to live. It's culturally diverse, and the warmth and kindness of the people makes me grateful to belong here. What I love most is the rich history and beauty of the region. There is so much to do and see in the North East, from the lush countryside, to the stunning coastline and I love exploring everything it has to offer.
I most definitely agree! There's always something to see and do. Is there one place in particular you always like to visit, that you would recommend to others?
There are so many beautiful places to visit around the region. Living in Northumberland is such a blessing and Morpeth is a vibrant market town. But my heart is always lifted most when I am at the Quayside in Newcastle. I just love walking along the river and when I see the Tyne bridge I always feel such pride and truly feel home.
The Tyne bridge really is a spectacular entrance to the city. Which three words best describe the North East to you?
There are so many marvellous words to describe the North East but to narrow it down I would say: 'hospitable', 'vibrant' and 'strength'.
People from the North East welcome people into the region with open arms. We are proud of our region and want others to love it as much as we do. And there is a grit and determination to the region and its people which gives us the ability to tackle whatever comes our way.
Totally agree. What is your favourite North Eastern slang? What does it mean?
I love the word 'yem'. It means home and it just has a lovely warmth to it.
'Am gannin yem', I am going home.
Who are your North East heroes?
There are so many heroes in the North East, most of whom are going about their daily lives not realising the impact they are having on others. In particular for me, the carers who help me look after my husband every day are heroes. During this past year, their dedication, compassion, and cheerfulness have not wavered and they carried on working without complaint. They make a difference to so many people who need help to stay at home and they regularly often go above and beyond because they truly care. And caring about others and showing genuine kindness makes every one of them a hero in my eyes.
Yes, they do sound like heroes! As a final question, Sarah, what makes you smile? 
I enjoy the simple things in life – a beautiful view, being with family and friends, finishing a good book and the sun on my face.
Thank you so much for sharing with us about your work and what the North East means to you!
Thank you to Kate Baguley for helping to coordinate these interviews.